A

look at the company's history
In the mid to late 50's Hank Deenen Landscaping was an ultra small, one man landscape Maintenance Company. The necessary tools were transported to and from job sites in the company's one vehicle. A station wagon which on weekends served as the family's means of transportation. You knew when the work week was over because the company's only advertising venue – a wooden sign bearing the company name – was taken out of the back window.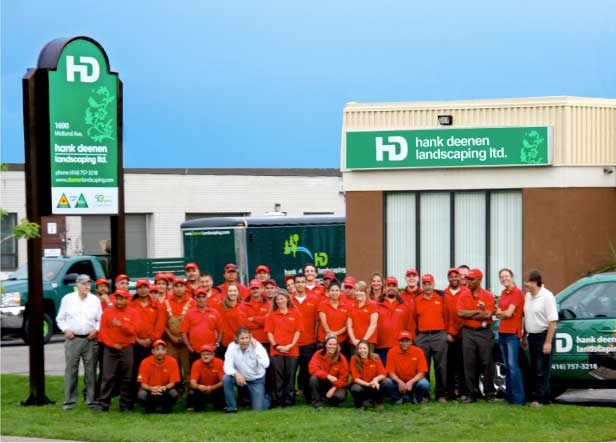 A look at the company's history reveals the work ethic and above all the perseverance required to take a fledgling company starting out in a young, unstructured industry to become one of the major players in Toronto area's very competitive and sophisticated marketplace.
Hank & Maria Deenen's decision to move to Canada was motivated primarily by their desire to leave behind their respective family business in their native Holland. Hank's family was in the cattle and trucking business, and neither had any interest in joining the hotel/food service business in which Maria had grownup. It was with a spirit of adventure and the unknown, therefore, that in 1952 they made the decision to join friends and relatives who had already immigrated to Canada.
Hank's first full-time job was as a factory worker with Illinois Tool. He supplemented his income as a part-time landscape labourer. Knowing he had at least a little experience in grounds maintenance, the management at Illinois Tool asked him if he would look after their grounds during the season. When other businesses in the area began to solicit his services as well, Hank quickly realized the potential of the marketplace and decided to start his own business.
Hank Deenen Landscaping made the transition from being a part-time to become a full-time seasonal business in 1955. The company turned into a year-round venture in 1957 when several of the young maintenance company's clients began requesting snow clearing services as well. The company moved location several times, always within Toronto's east end, to accommodate the needs of a growing business with increased staff, more equipment and inventory storage requirements. The first location away from the family home was a lot with a storage trailer, from there Deenen Landscaping moved to an industrial building which had the extra advantage of a mechanic's bay. This location was on Cosentino Avenue and was there for eight years. It was not until the company moved to their location on Midland Avenue in 1975 that the office and business were finally operated from the same location. As with most small businesses, this was a family affair, and running the office from home allowed Maria to look after her family as well as the company's ever increasing administrative functions.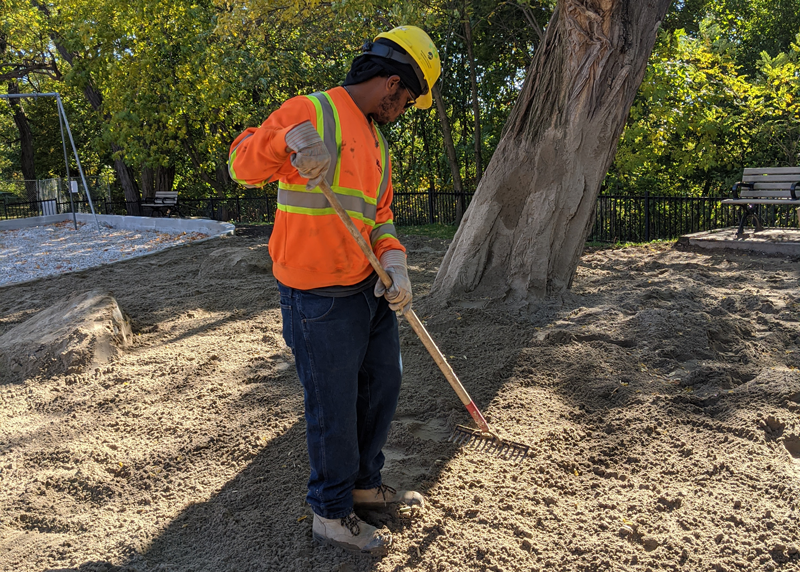 Hank Deenen Landscaping started with some commercial and mostly residential grounds maintenance contracts, many in the prestigious areas of Victoria Park and the Bridal Path. It was natural that these clients would also require Deenen Landscaping to accommodate their site upgrading and landscaping needs and the company gradually expanded into the residential construction sector. It was not until son Harold joined the company in 1974, after graduating from Humber College's Landscape Technology program, bringing with him new and ambitious plans, as well as, a willingness to share the many responsibilities of running a company, that Deenen Landscaping began to tackle larger, commercial projects.
Bidding on commercial grounds maintenance projects and the landscaping to town house developments, the company began expanding rapidly.
In 1979 disaster struck. It's a story told all too often by the landscape sector of the industry – prices were being quoted too low and it was becoming harder and harder to collect outstanding accounts. Unscrupulous developers held back large percentages of monies owing for extended periods of time, were very late in paying their bills, or worse yet, simply stopped paying their bills.
Although Deenen Landscaping was close to financial failure at that time, they were determined to return the company to its former, profitable status. After three years of dedication, commitment and above all, hard work from all of the management and full time staff, the company was finally able to say it had made a complete recovery. The lessons learned have had a lasting impact on the operations of Deenen Landscaping. The more obvious included tighter credit policies and a weeding out of their customer base. By seeking out large corporate and government work and thereby ensuring more solid receivables, the apparent decreases in profitability were only an illusion when compared to the high losses once suffered because of unpaid accounts. Just as importantly, Deenen Landscaping has now taken the attitude that efficiency and accuracy of their administration systems are equally as important as efficiency and accuracy on the job site. From the financial reports generated monthly to the methods used for generating sales leads, there is a closely monitored system in place for virtually every office function.
Employing 40 – 50 people on a full-time seasonal basis, the work load is fairly evenly split between landscape construction and landscape maintenance, depending, of course, on current economic conditions. Although Deenen's Landscape division is capable of performing most hard and soft landscaping functions, they have found it more economical to hire in sub-trades for installation of irrigation systems, playgrounds, electrical and mechanical work and decorative steel fences. In the same way that townhouse development was the core of their landscape work 45 years ago, today Deenen Landscaping is very involved in park development, with a minimum of three to four and as many as six park development projects per year. 

The fact that Hank Deenen Landscaping has undergone such dramatic changes in their 65 years in many respects correspond to the changes which have occurred in the industry within the same time period – changes in which they are proud to have played an integral role.
The lack of structure to the industry in which he had chosen to participate greatly concerned Hank Deenen and he invited his colleagues to join him in discussing methods for bringing greater control over their industry. It was through meetings held in the Deenen's family basement recreation room in the mid 1960's that the plans to start the Ontario Grounds Maintenance Landscape Association (OGMLA), one of the forerunners of Landscape Ontario, were originally conceived.
As an awareness of the inestimable value of trade associations led to a commitment by the management of Deenen Landscaping to support and nurture these associations. It was natural that Harold would also follow in his father's footsteps. Since joining the family business, he has been involved on numerous Landscape Ontario committees, usually as the chair. He also spent eight years on the provincial board of directors and served as president in 1982. Deenen Landscaping's commitment to association involved allows them to meet their important company objective of ensuring a healthy, professional business environment for both today's and future generations. Harold's Cousin Frank Deenen, took an active interest in the landscape industry as a result of summer jobs working for the company and after studying at Humber College and has maintained his position of General Manager.
Ultimately, a company's success can be traced back to the skill and especially the commitment and dedication of their staff. The management at Deenen Landscaping are all too aware, however, that this commitment and dedication does not come freely – it must be earned. Deenen Landscaping is continually refining the employee manual which governs the activities of all of their staff. By setting standards for appropriate behaviour and dress, the company is better able to maintain their professional image at all times. It is their strict adherence to those factors which directly affect the employee's well being, however, especially safety procedures, that send employees the message that management is interested in more than the bottom line. In this regard, an employee safety manual is the written confirmation of a company's policies and especially their practices. Deenen Landscaping's reward is in their high number of long-term employees, many who have been with the company for 15 and even 25 or more years.
With today's rapid pace of change, planning for the future is more of a challenge than ever. An important part of meeting that challenge is not just keeping up with, but incorporating those technologies that allow a company to be more efficient and profitable today. By learning from their past experiences and embracing what today has to offer, Hank Deenen Landscaping feels they are particularly well-positioned to meet the demands of tomorrow.
For landscape installation, maintenance, & more in the Greater Toronto Area, contact the team from Hank Deenen Landscaping Limited online today or call (416) 757-3218 for an estimate.